ONLY $2499
Free Initial Consultation ($150 Value)
plus Complete Implant Procedure Includes:
Post + Abutment + Crown
Conditions Apply
Limited time offer, call 253-838-8830 to make an appointment.
Before and After
Dental Implants
Dr. Zan Xu will implant, design and fit the replacement teeth or do restorative work on faulty crowns, renewing your smile and your chewing ability.
Reasons to Consider Dental Implants
When both the tooth and root are damaged, the best permanent replacement is a dental implant in conjunction with a ceramic crown. This solution both looks and functions just like a natural tooth.
Without the root structure of a natural tooth the jawbone can shrink making your face look older. There are no loose parts. An implant is stable and comfortable. Normally, it will serve its owner for life. Dental Implants LOOK and FEEL like natural teeth.
What is a Dental Implant?
A dental implant is a small titanium screw that serves as the replacement for the root portion of a missing natural tooth. Dental implants can be placed in either the upper or lower jaws. Due to the biocompatible properties of titanium, a dental implant fuses with the bone and becomes a good anchor for the replacement tooth.
Dental implants can be used in solutions for replacing single or multiple missing teeth.
Many people who consider implants have removable, conventional dentures for lower and upper jaws, or have removable bridges. These people experience a significant improvement in their ability to chew food comfortably after their dental implant treatment.
The Dental Implant Procedure
The implant team usually includes either a periodontist or an oral and maxillofacial surgeon who implants the posts into the patient's mouth, and a prosthodontist or general dentist who designs and fits the replacement teeth or permanent bridge. Dr. Xu will implant, design and fit the replacement teeth or do restorative work on faulty crowns all in one office.
At the first appointment, we use an X-ray to determine if the jaw bone is adequate to hold the titanium posts. Models of the mouth are often made using a soft, pliable plastic compound. These models show where the gaps are located and provide measurements for a replacement tooth or a bridge. Treatment with dental implants is complicated and takes meticulous planning for best results. Today the implants being placed often only require one surgical procedure using a local anesthetic and sedative.
Is Old Age a Problem?
Occasionally, older patients express concern to Dr. Xu that their age may prevent them from enjoying the benefits of dental implants. However, health is more of a determining factor than age. If you're healthy enough to have a tooth extracted, you're probably healthy enough to receive dental implants. Certain chronic diseases may contraindicate dental implant treatment. The dentist will determine if you are a candidate for dental implants after a careful evaluation of your dental and health history.
How Will Dental Implants Affect My Life?
Dental implant-supported replacement teeth look, feel and function like natural teeth. This means that you can eat and drink whatever you choose. But most importantly, dental implants improve quality of life in a very concrete way. People who have felt embarrassed and worried because of their tooth problems are often overwhelmed by what new permanent teeth can do for their self-esteem.
Contact us today to set up an appointment with Dr. Zan Xu if your are considering dental implants.
Don't hesitate to contact us to discuss any aspect of your dental health - we don't charge for giving advice!
Dental Implants
Dental implants are becoming more popular in today's dental society for a number of reasons. Implants are utilized to offer patients a foundation for new restorative teeth where natural teeth are missing or have been extracted. The implant offers the patient the opportunity to regain normal function of the tooth without being forced to resort to a bridge or a denture.
Benefits
· The implant will osseointegrate (bond) with the existing bone.
· The new implant will support your teeth firmly and safely.
· Your new implants are aesthetically pleasing.
· You will no longer have pain during talking or eating.
· The dental implant will prevent progressive bone atrophy.
· Implants have a proven scientific basis.
Procedure
The tooth structure has two main sections, the root and the crown. The root is the section of the tooth that is below the gumline. A dental implant acts as the restorative for this section of the tooth. The metal implant acts as an anchor in the jawbone. The first step of the procedure is surgical placement of the implant. Under regular dental anesthetic, the gum tissue is opened and the dentist places the implant into the jawbone. When this is achieved, the tissue is then sutured closed. There is not often significant discomfort with this procedure. This process can take from 1-3 hours depending on the number of implants being placed.
This implant will be left untreated for a period of 3-6 months. During this time, the bone will grow around the implant in a process called osseointegration. A removable crown may be utilized during this time period to allow for chewing and to preserve the cosmetic appearance..
The next step in the process is to attach an abutment to the tooth. This is achieved by exposing the top of the implant and placing the abutment. This is the part of the implant that will support the final crown.
Finally, an impression is taken of the implant and a final restoration is crafted. This restoration will be comfortable and cosmetically pleasing. Your completed implant will be fully functional, allowing you to resume normal activities.
MDI mini Implants
Our office is also a certified MDI mini implant provider.
What is mini-implant?
Mini implant is small diameter (usually less than 3mm) implants offers patient implant choice usually not feaseable with regular type implants, such as insufficient bone, intolerance of surgery and cost. Mini implants are found most used in denture stabilization.
Mini dental implants revolutionized dentistry with the introduction of a minimally invasive treatment plan for denture or partial stabilization. These small diameter implans enable us to broaden the spectrum of patients that can be treated. The MDI denture stabilization system was developed in order to provide greater denture stability for those patients who cannot withstnd the rigors of conventional implant surgery, who do not have enough bone to allow for full sized implants to be placed or those that are seeking an option with a lower cost than traditional implant treatment..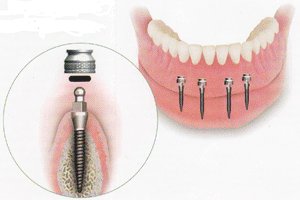 What is the MDI Denture Stabilization System?
The MDI System consists of a miniature titanium alloy implant that acts like the root of your tooth and a retaining fixture that is incorporated into the base of your denture. The head of the implant is shaped like a ball, and the retaining fixture acts like a socket with a rubber O-ring. The O-ring snaps over the ball when the denture is seated and holds the denture firmly in place. When seated, the denture gently rests on the gum tissue. The implant fixtures allow for micro-mobility while withstanding natural lifting forces.
How are mini implants placed?
Placement of the implants is accomplished quickly and easily in a process performed in our office, with local anesthesia. Using a precise, controlled, minimally invasive surgical technique, mini implants are placed into the jaw bone. The heads of the implants protrude from the gum tissue and provide a strong, solid foundation for securing your dentures. Because of the minimally invasive nature of this procedure, mini implant placement does not require a lengthy healing period, meaning dentures can be stabilized the same day the mini implants are placed.
What will my first day be like?
Leave the denture in place for the first48 hours after mini implant placement. You should not experience any excessive bleeding. There should not experience any excessive bleeding. There will be some mild discomfort, but this should ne minimal and controlled by the pain medication you have been given. The denture should feel secure. You may eat as soon as you wish to, but avoid excessively hard or sticky foods for a period. Upon removing your denture, rinse your mouth with an antiseptic mouthwash. We also recommend ACCESS toothbrush. It has been specifically designed to clean your implants and gently stimulate the surrounding gum tissue.
How do I place and remove my dentures?
The implants and the O-ring fixtures must be clean and free from debris. Grasp the denture with both hands and lightly seat the denture, feeling that the O-rings are resting above the ball head of the implants, then press down firmly and equally on both sides. Make sure that you feel the implant heads easily fitting each O-ring. You will fill the denture snap into place. If you have trouble seating your denture, first make sure that the implants and denture are absolutely clean. Second, make sure that you feel the implants resting over each socket. Al light touch will give you the best results. Remember to push downward equally on both sides.
To remove the denture, place your thumbs under each side of the lower denture rim and push both sides upward at the same time. The tongue can also assist in this simple removal process.
What about care & maintenance?
You must brush and clean the ball of the implants as if they were your natural teeth. As with natural teeth, food and bacterial debris (plaques) must be removed after meals. If not removed, the plaques will cause inflammation of the gums and can be forced into the O-ring fixtures, causing improper seating and loss of retention. The O-ring fixtures must also be cleaned out.
The ACCESS toothbrush has been specifically designed for optimum cleaning of the implant fixtures. Ultrasonic cleaners are ideal for insuring that the retaining fixtures are kept clean and free from food impaction and debris. Use either mouthwash or a 50-50 peroxide solution in the ultrasonic cleaner. A Water-Pic may also be used to rinse out the denture fixtures. If the denture does not remain firmly in place, call our office and inform us of your problems. We will determine your appropriate check-up. At that time, the condition of the implant, your gums, and the O-rings will be evaluated and properly maintained. Do not use effervescent cleansers, as these may deteriorate O-rings.